The World Congress of Vine and Wine, organised by the OIV, was held from 5 to 9 June in Spain... and Agdatahub was there! Our CEO Sébastien Picardat presented the Open Wine Data platform, dedicated to data from the wine industry.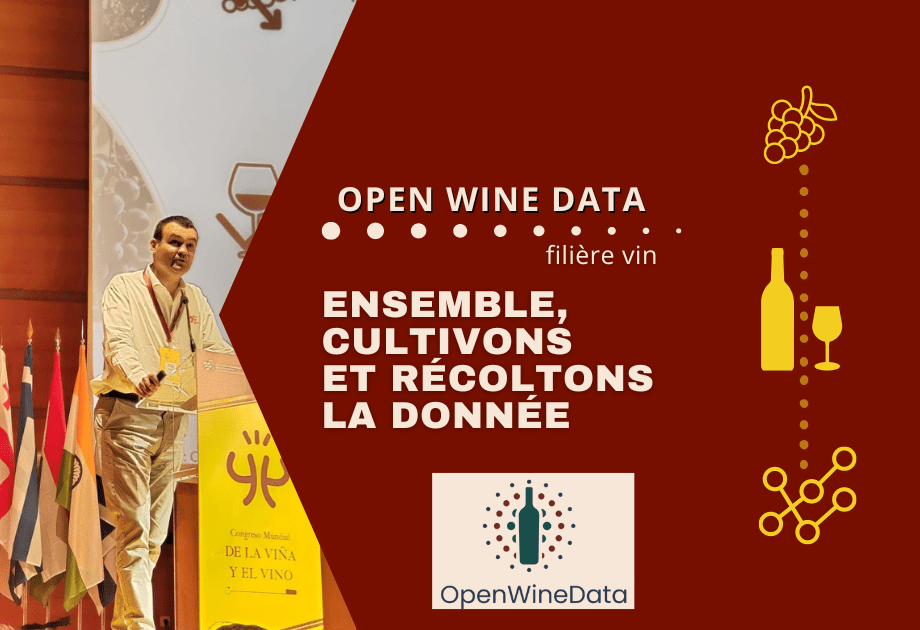 WHAT IS OPEN WINE DATA?
Open Wine Data is a data collection, exchange and processing platform carried by and for the wine industry, with the support, in particular, of the Wine Tech. This platform is jointly operated by Agdatahub and Aveine. Agdatahub will provide data intermediation, via its Agritrust (consent management) and API-Agro (data exchanges) products. Data processing may be provided by WineTech start-ups, including Aveine, and will be open to any other data processing player. 
Open Wine Data aims to be the benchmark tool for supporting the digitisation and use of data in the wine industry, by simplifying and securing its circulation, for the benefit of winegrowers and all players in the industry. Above all, Open Wine Data (like all Agdatahub solutions), is aligned with the new European regulations that are the Data Governance Act and the Data Act. This means that data cannot be circulated or used without the consent of farmers. 
WHY A DATA PLATFORM FOR THE WINE INDUSTRY? ?
To interconnect data: OWD offers winegrowers, cooperatives, transporters, distributors or sommeliers a single, simplified access to anonymised data offers that are useful for developing their business. 
To secure data: OWD is a framework of trust based on sovereign technologies (from the data exchange platform to the cloud) and within which data circulates securely and transparently between players. 
To standardise data: the definition of standards and the adoption of common benchmarks are essential for the unique identification of a wine and its vintage, to meet European regulations and consumer requirements. 
To monetise data: data sources are heterogeneous and difficult to target. Publishing their data offerings on a single platform like OWD enables players to add value and/or monetise their information. This virtuous ecosystem generates benefits for the entire industry (digitalisation, competitiveness, transparency, etc.).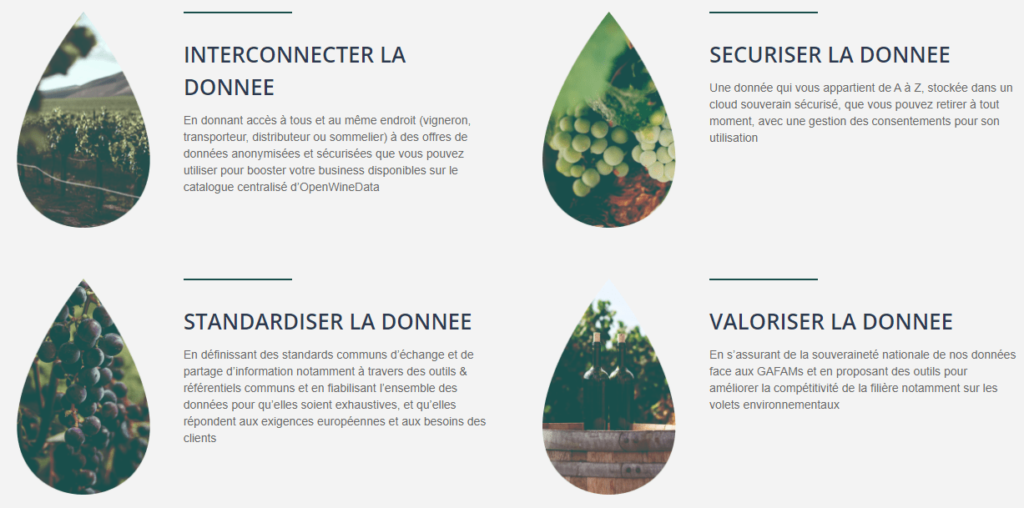 WHAT DATA CAN BE CIRCULATED VIA OPEN WINE DATA?
In addition to the experimental data supplied by the Institut Français de la Vigne et du Vin (IFV) and INRAE, all public and private data will be able to circulate between all operators.
>> Are you a winegrower? Are you a cooperative? Are you a transporter? Are you a distributor? Contact us to discuss your needs and your data offers. 
WHY IS THE CIRCULATION OF WINEGROWING DATA IMPORTANT?
Properly processed, properly analysed and properly shared, the data collected on vineyards is useful to wine industry professionals in adapting their practices and optimising the marketing of their wines. For example, data can provide concrete solutions to the effects of climate change: by identifying new, more suitable varieties, better managing natural resources such as water, following preventive or curative technical itineraries... Their proper circulation also makes it possible to improve the traceability of information, from grape collection to wine tasting, and thus meet consumer demands. 
"The circulation of data is crucial to meeting the sustainability challenges facing the agricultural sector. That's why we need to support the development of interoperable data-sharing initiatives and create a common language for wine data", Sébastien Picardat reminded those present on stage at the World Vine and Wine Congress.
Please note: The 2024 World Vine and Wine Congress will be held in Dijon. This will be the perfect opportunity for French players to showcase concrete examples of the benefits of digital technology and data..
More information