In France, there are 380,000 farms exchanging agricultural data with around 85,000 upstream and downstream partners. This includes geographical data, such as data on agricultural plots, technical data on farming practices and environmental data (from weather sensors, for example).
To say that data is of interest to every link in the agricultural and agri-food chains is therefore an understatement. From fork to fork, from field to plate, from cluster to glass... You can picture it however you like but the fact is that farmers, technical advisers, specialist software publishers, cooperatives, traders, manufacturers, consumers: they all need agricultural and agri-food data to circulate... but, of course, not just any old way.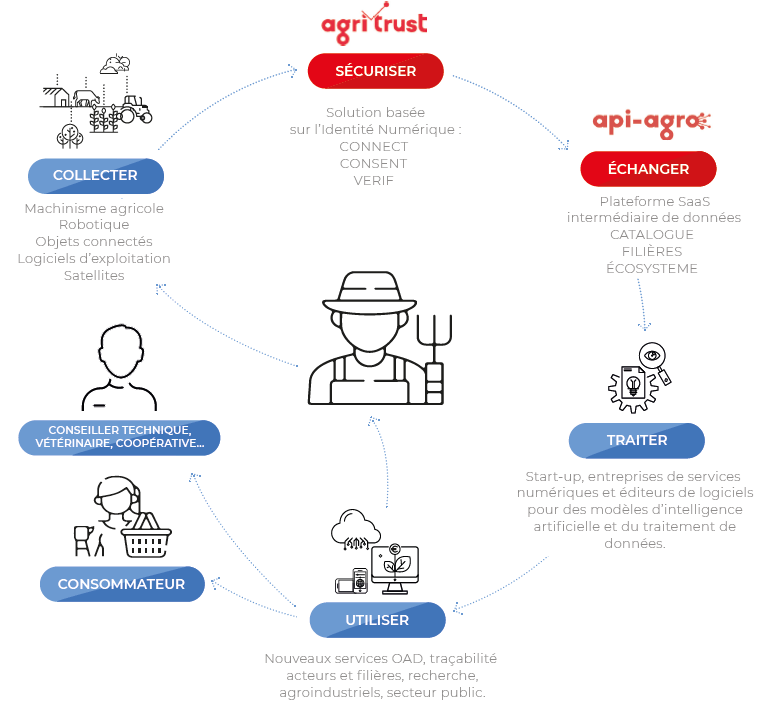 Pourquoi la circulation des données du secteur agricole est-elle importante ?
The agricultural sector is the second largest producer of data in France and Europe. These data collected on farms are valuable because they are useful. For example, they can feed into new innovative tools (provided by the AgriTech ecosystem) that will promote more efficient and sustainable agriculture. That's a goal, or an ambition, that everyone can agree on, isn't it? But for that to happen, agricultural data needs to be able to be collected, exchanged and processed securely.
Or, ne soyons pas naïfs, aujourd'hui la situation n'est pas idéale : hétérogénéité des données, problèmes de portabilité des données ou d'interopérabilité des plateformes, transformation numérique à plusieurs vitesses, confiance à gagner ou à construire, acteurs qui s'estiment assis sur un tas d'or, maturité digitale hétérogène suivant les acteurs… 
👌 Fortunately, solutions are emerging or already exist for most of these problems.
A common language for agricultural data
The standardisation of data is the answer to the current heterogeneity of data. That's why players from upstream agriculture, supply chains and private companies have come together within the association Numagri. Through a number of use cases (foremost among them that of animal feed data carried by the dairy industry), the aim is to achieve data standards at industry level so that the circulation of data is more reliable and fluid.
Ensuring that consent to the use of data is taken into account
Once the standards are in place and the obstacles to the circulation of data have been removed, data must be able to be exchanged with the consent of farmers or breeders. Beyond an ethical point of view, this is a regulatory obligation that will come into force after the summer. And yes, after the RGPD for personal data, the European Union is going to regulate professional data via two founding regulations: the Data Governance Act and the Data Act.
>> Read our article: European data regulation: deciphering the Data Governance Act <<
The expression of informed consent to the use of data and compliance with it are among the essential elements of these regulatory changes, the first of which will come into force on 23 September 2023.
In France, virtuous initiatives on the issue of the controlled use of agricultural data already exist, following the example of the Data-Agri label. Companies that have been awarded the Data-Agri label (around ten to date) contractually undertake to comply with a set of ethical rules when processing their customers' agricultural data.
>> Read the use case: Support for Data-Agri labelling of start-up Elzeard <<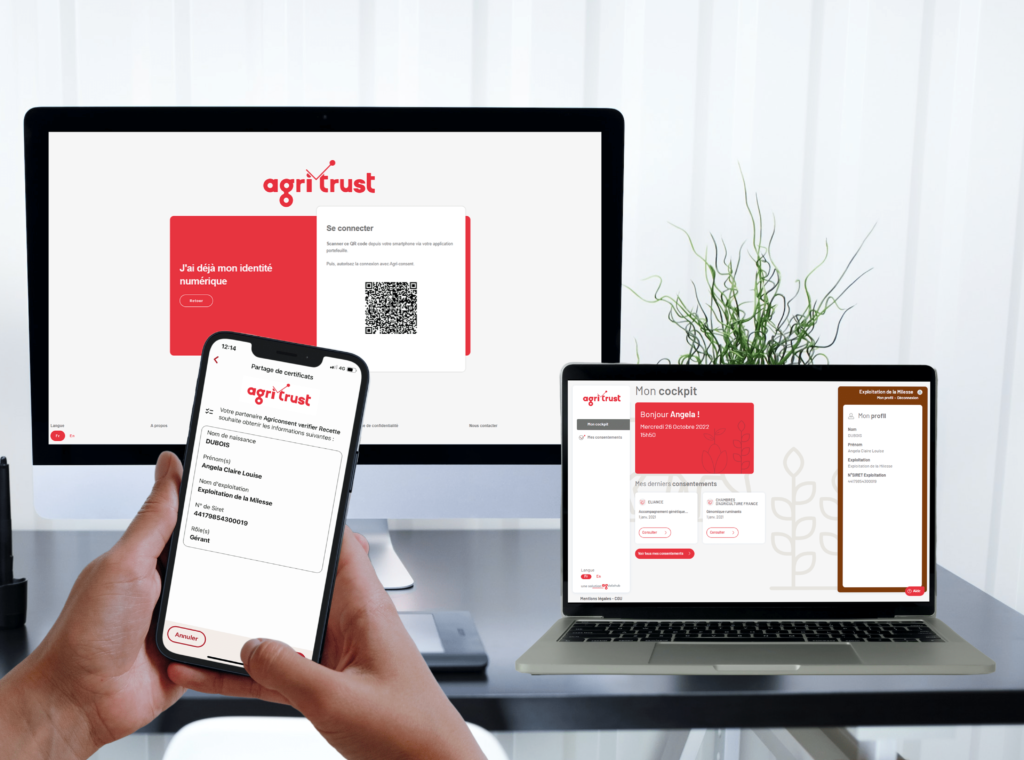 Beyond this contractual aspect, consent managers or consent administration tools dedicated to the agricultural sector are also developing (Agritrust, at random!). These tools will enable companies partnering farmers and breeders to apply European regulations by guaranteeing that their consent to the use of their data is taken into account. All in complete security, trust and transparency, thanks to blockchain technology and the agricultural digital identity.
Exchanging data for the benefit of players in the agricultural sector
Security must also be taken into account when exchanging data files, for example. No more sending data by simple e-mail, FTP or using American technologies, for example, over which we have no complete visibility.
Here again, solutions exist. It's hard not to mention our API-Agro agricultural data exchange platform: it provides intermediation between issuers and purchasers of qualified multi-sector data, offered in the form of files or APIs, all using sovereign technologies.
💡 It should be noted that the role of data intermediary will be regulated by Arcep, as will the subject of the data economy.
IN CONCLUSION...
The strength and resilience of the agricultural sector, and what makes it an economic sector in its own right, has always been the weight of the collective. This is also true when it comes to bringing agricultural data projects to fruition. It is not by putting data under lock and key that we will advance innovation and be able to respond to current issues: global warming, the arduousness of working conditions, traceability...
So, are you ready to share your data securely?
More information